$14.99
AUD
Category: Children 5-8 | Series: The Treehouse
Andy and Terry have added 13 new levels to their treehouse and now it's even more out of this world than before! There's a soap bubble blaster, a GRABINATOR (it can grab anything from anywhere at any time), a time-wasting level, a toilet paper factory (because you can never have too much toilet paper), a room full of mechanical grandparents, a super long legs level, an extraterrestrial observation centre and the best bookshop-in-a-treehouse-in-a-tree-in-a-forest-in-a-book in the whole world! Well, what are you waiting for? Come on up! ...Show more
$16.99
AUD
Category: Picture Books
Bluey wants to play Mum School instead of having her bath. But will the kids listen to her? A gorgeous hardback book for kids of all ages. Bluey has been a phenomenal success since airing on ABC KIDS in October 2018, amassing legions of dedicated fans and hugely popular ranges of books, toys, clothes, g ames and more. It holds the coveted position of being the most watched program ever on ABC iView, with over 260 million plays for Series One, and is the winner of an International Emmy for Most Outstanding Children's Programme.   ...Show more
$14.99
AUD
Category: Children 9-12
10 stories. 10 mysterious situations. 10 brave kids. 20 minutes of clues. Kanes parachute fails during a skydive. Is someone trying to kill him? Fang is investigated by secret police. Can she prove she isnt a traitor? Omar is buried alive in a coffin. How will he escape? Jack Heaths ten nail-biting and mysterious short stories will intrigue and terrify during each 20-minute countdown, as dangerous situations play out right down to the last crucial moment. ...Show more
$14.99
AUD
Category: Board Books
Join Bluey and Bingo as they try to answer the question- can grannies dance? Bluey has been a phenomenal success since airing on ABC KIDS in October 2018, amassing legions of dedicated fans and taking the coveted position of being the most watched program ever on ABC iView, with over 200 million plays. It has also topped the Australian iTunes Kids Chart with the series peaking at #1 and consistently remaining in the Top 5. ...Show more
$7.99
AUD
Category: Activity Books | Series: Disney Onward
Join two elf brothers, voiced by Tom Holland and Chris Pratt, on a quest to find out if there's still a little magic out there in the world. Grab a paintbrush and some water to bring their adventure to life! Easy to use colour palettes will give kids hours of mess-free fun as they colour their favourite Onward characters. ...Show more
$17.99
AUD
Category: Children 9-12 | Series: Morrigan Crow
Morrigan Crow and her friends have survived their first year as proud scholars of the elite Wundrous Society, helped bring down the nefarious Ghastly Market, and proven themselves loyal to Unit 919. Now Morrigan faces a new, exciting challenge: to master the mysterious Wretched Arts of the Accomplished Wundersmith, and control the power that threatens to consume her. Meanwhile, a strange and frightening illness has taken hold of Nevermoor, turning infected Wunimals into mindless, vicious Unnimals on the hunt. As victims of the Hollowpox multiply, panic spreads. There are whispers - growing louder every day - that this catastrophe can only be the work of the Wundersmith, Ezra Squall. But inside the walls of Wunsoc, everyone knows there is a new Wundersmith - one who's much closer to home. With Nevermoor in a state of fear and the truth about Morrigan threatening to get out, the city she loves becomes the most perilous place in the world. Morrigan must try to find a cure for the Hollowpox, but it will put her - and everyone in Nevermoor - in more danger than she could have imagined. ...Show more
$17.99
AUD
Category: Children 9-12 | Series: Percy Jackson | Reading Level: 10+
Percy Jackson and the Lightning Thief is the first bestselling book in Rick Riordan's phenomenally successful Percy Jackson series.   Half boy. Half God. ALL Hero. Look, I didn't want to be a half-blood. I never asked to be the son of a Greek God. I was just a normal kid, going to school, playing basket ball, skateboarding. The usual. Until I accidentally vaporized my maths teacher. Now I spend my time battling monsters and generally trying to stay alive. This is the one where Zeus, God of the Sky, thinks I've stolen his lightning bolt - and making Zeus angry is a very bad idea. ----- Rick Riordan has now sold an incredible 55 million copies of his books worldwide 'It's Buffy meets Artemis Fowl. Thumbs up' Sunday Times ----- Books by Rick Riordan: The Percy Jackson series: Percy Jackson and the Lightning Thief Percy Jackson and the Sea of Monsters Percy Jackson and the Titan's Curse Percy Jackson and the Battle of the Labyrinth Percy Jackson and the Last Olympian Percy Jackson: The Demigod Files The Heroes of Olympus series: The Lost Hero The Son Of Neptune The Mark of Athena The Heroes of Olympus: The Demigod Files The Kane Chronicles series: The Red Pyramid The Throne of Fire The Serpent's Shadow The Magnus Chase series: Magnus Chase and the Sword of Summer Magnus Chase and the Hammer of Thor Magnus Chase and the Ship of the Dead The Trials of Apollo series: The Dark Prophecy The Hidden Oracle The Burning Maze ...Show more
$2.00
AUD
Category: Children 5-8 | Series: The Treehouse Books
Andy always narrates the Treehouse stories. That's because Terry is the illustrator and 'illustrators can't narrate-everybody knows that!' Everyone except Terry, that is. He can tell a story too. Just watch what he can do. He begins with a dot. A dot that joins up with some lines. Some lines that join u p with some shapes. Some shapes that go ... KABLAM! And that's just the beginning of the Trouble in the Treehouse. ...Show more
$17.99
AUD
Category: Children 9-12
One extraordinary year will change them all... Sorrento, Victoria, 1999. Fred's family is a mess. Her mother died when she was six and she's been raised by her Pop and adoptive father, Luca, ever since. But now Pop's had to go away, and Luca's girlfriend Anika and her son have moved in. More and more it feels like a land-grab for family and Fred is the one being left off the map. Even as things feel like they're spinning out of control for Fred, a crisis from the other side of the world comes crashing in. When a group of Kosovar-Albanian refugees are brought to a government 'safe haven' not far from Sorrento, their fate becomes intertwined with the lives of Fred and her family in ways that no one could have expected. ...Show more
$6.99
AUD
Category: Activity Books
This deluxe ultimate colouring book features an amazing 64 pages of colouring, providing hours of fun perfect for all Mulan fans!
$15.99
AUD
Category: Children 5-8
The Cook-Off is on! Weir and his friends have their eyes on the prizea trip to Queen Bubblegums LOLLY FACTORY! Will the battle be a piece of cake?! It wont be easy... but it will be funny!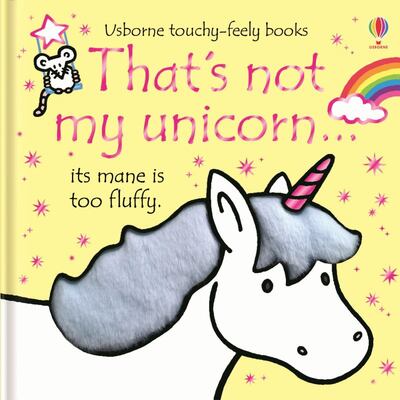 $14.99
AUD
Category: Board Books | Series: That's Not My... | Reading Level: Children's - Kindergarten, Age 5-6
The 50th title in the internationally best-selling That s not my... series. This sparkly, touchy-feely book features a magical unicorn to talk about, and a little white mouse to spot on every page. Babies and toddlers will love turning the pages and touching the textured patches as they try to find thei r unicorn. ...Show more