$2.00
AUD
Category: Children 5-8 | Series: The Treehouse Books
Andy always narrates the Treehouse stories. That's because Terry is the illustrator and 'illustrators can't narrate-everybody knows that!' Everyone except Terry, that is. He can tell a story too. Just watch what he can do. He begins with a dot. A dot that joins up with some lines. Some lines that join u p with some shapes. Some shapes that go ... KABLAM! And that's just the beginning of the Trouble in the Treehouse. ...Show more
$14.99
AUD
Category: Children 5-8 | Series: WeirDo
Life for WeirDo is MEGA BUSY! Hes planning on making MEGA bucks from the Street Garage Sale, plus hes helping Bella write a winning song! And is that a dusty dino bone in the corner? It wont be easy ... but it will be funny!
$12.99
AUD
Category: Children 5-8 | Series: Hotdog
Hotdog, Kev and Lizzie enter an art contest at the local museum. But what happens when someone steals the most famous painting in the world the Llama Lisa!? Can Hotdog and his friends chase down the robbers?
$9.99
AUD
Category: Children 5-8 | Series: The Princess in Black
Noseholes and elephants! A pet-eating monster interrupts a perfect playdate with Princess Sneezewort. . . . But who is that new masked avenger? Princess Magnolia and Princess Sneezewort have plans . . . mysterious plans, like a princess playdate! They dress-up slam! They karaoke jam! But then a shout f rom outside Princess Sneezewort's castle interrupts their fun. It's a monster! This is a job for the Princess in Black. Yet when the Princess in Black gets there, she finds only a masked stranger and no monster in sight. But all is not as it seems! Action and humor abound in this ode to friendship that proves that when shape-shifting monsters intrude on your plans, two heroes are better than one. ...Show more
$14.99
AUD
Category: Children 5-8 | Series: Rocky Lobstar Ser.
'Hi! I'm Rocky Lobstar. I'm part-boy, part-lobster!' Rocky and his best mate, Goober, accidentally break Mr Felidi's prized tea set. But as luck would have it, a visiting professor has brought her time machine along to Felidi's Fabulous Sideshow Carnival. Can Rocky and Goober turn back time? Or will the y cause an epic time travel catastrophe? ...Show more
$22.99
AUD
Category: Children 5-8
Fly into a fiery and fantastical future with No. 1 bestselling author David Walliams, in an epic adventure of myth and legend, good and evil, and one small boy who must save the world… Illustrated by the artistic genius Tony Ross! It is 2120 and London is in ruins. The young Prince Alfred has never k nown a life outside Buckingham Palace – but when strange goings-on breach its walls and stalk the corridors in the dead of night, he is thrust into a world of mystery, adventure and monsters. And when his mother, the Queen, is dragged away to the Tower of London, Alfred must screw up his courage and battle to save her, himself… and the entire city. In a future of myths and legends, join the bestselling David Walliams and venture forth into his most enthralling tale yet!   ...Show more
$12.99
AUD
Category: Children 5-8 | Series: Aussie Kids Ser.
Hi! I'm Taj. This is my favourite T-shirt. I brought it to Australia from my old home. My family came here after a long journey. It was hard at first, but now I love my new home!
$14.99
AUD
Category: Children 5-8 | Series: Yours Troolie, Alice Toolie
Alice Toolie - seriously famous Youtootuber - and her best enemy Jimmy Cook are back to fight another day in a whole new chapter of adventures from the CBCA award-winning writers of the Captain Jimmy Cook Discovers series. Book Week is always the best week of the year! But when Alice Toolie and Jimmy Co ok get involved, it's set for disaster. From kooky costume ideas to accidental author visits, nothing is safe. It's no wonder they've been fired as Library Monitors! The only way they'll get their jobs back is by winning First Prize in the book parade. And that means working together. Can these two best frenemies leave their differences behind long enough to win the Battle of Book Week? ...Show more
$15.99
AUD
Category: Children 5-8 | Series: WeirDo
Halloween's coming up, and Bella and Weir are busy working on their costumes. But everything will be turned upside-down when Weir Do finds out his family are moving away!
$14.99
AUD
Category: Children 5-8
   Adventure awaits! From the imagination of Rowley Jefferson comes an adventure of epic proportions. Join Roland and his best friend, Garg the Barbarian, as they leave the safety of their village and embark on a quest to save Roland's mom from the White Warlock. Will our heroes survive? Find out in Ro wley Jefferson's Awesome Friendly Adventure! ...Show more
$9.99
AUD
Category: Children 5-8 | Series: The Princess in Black | Reading Level: Children's - Grade 1-2, Age 6-7
Even monster-battling princesses get tired sometimes! But a peaceful time away is hard to find in the fourth book of the New York Times best-selling series. After battling monsters all night, a sleepy Princess in Black decides that she needs a vacation. After all, the Goat Avenger has offered to protec t the goats while she's away. The very next day Princess Magnolia rides her bicycle to the seaside, where the air is salty, the sun is shiny, and the sea is as blue as monster fur. But just as Princess Magnolia is about to take a nap on her hammock, she hears a "ROAR!" Could a sea monster ruin this vacation for the Princess in Black? ...Show more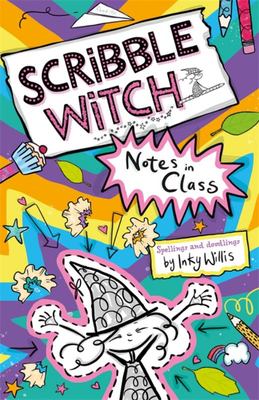 $14.99
AUD
Category: Children 5-8 | Series: Scribble Witch Ser.
Welcome to the new magical series about a girl and her secret scribble witch, guaranteed to make 7-9s laugh out loud. When Molly's best friend announces that she's moving to a new school, a blue Wednesday becomes the Worst Wednesday Ever. That is until some unexpected magic brightens up Molly's day. N otes, a tiny paper witch who has been lurking in a pen pot, springs to life - and into action! Some of the things Notes does are absolutely NOT helpful and get Molly into trouble with her grouchbag teacher. But it's surprising what one tiny witch, armed with nothing more than a pencil, can achieve before the bell for home time rings... With a vibrant, unique voice, and amazing illustrations to match, Inky Willis conjures up magic for every reader!   ...Show more