$39.99
AUD
Category: World War 2
Tom 'Diver' Derrick VC DCM was Australia's most famous fighting soldier of World War II. Derrick fought in five campaigns, won the highest medals for bravery, and died of wounds sustained while leading his men in the war's last stages. His career reached its climax on the jungle-clad heights of Sattelbe rg in New Guinea, where he won the Victoria Cross by spearheading the capture of seemingly impregnable Japanese defences. The diaries Derrick kept throughout his campaigns, from Tobruk to Tarakan, are among the most important writings by any Australian soldier. Those diaries and all his other known wartime correspondence and interviews are published here for the first time in their entirety. 'Diver' had only a rudimentary education, but his intelligence, humour, ambition and fighting outlook shine through his words. Edited and annotated by Mark Johnston, one of Australia's leading authorities on World War II, this book provides unprecedented insights into the mind and the remarkable career of one of Australia's most decorated and renowned servicemen. ...Show more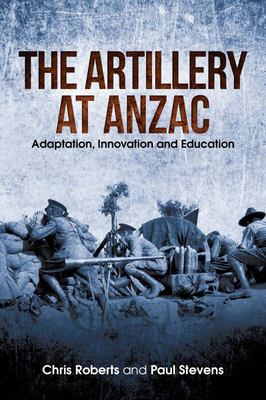 $34.99
AUD
Category: Australian Military
This meticulously researched book provides the first comprehensive study of the employment of artillery and naval gunfire support at Anzac. Faced with huge difficulties on inferior ground the Australian, New Zealand, Indian, and British gunners quickly adapted to a hostile environment, employing innovat ive techniques to counter superior numbers of Ottoman artillery and provide fire support to their infantry and light horse colleagues. How well they performed is a central theme of The Artillery at Anzac. Using a host of primary sources including official manuals, war diaries, operation orders, letters, and private papers the authors trace the story of this neglected feature of the Gallipoli campaign. Commencing with an evaluation of the nascent pre-war Australian and New Zealand artillery, they take the reader through the testing introduction to the realities of modern warfare, the trials and difficulties the gunners experienced throughout the campaign, to the phased evacuation in December, without alerting the Ottomans to the reduced number of guns. Along the way, they challenge a long held controversy concerning the light horse charge at the Nek, and evaluate the effectiveness of the fire support provided to the infantry attacks, including that at Lone Pine, the attacks on the Sari Bair Range, and at Hill 60. In doing so, the authors illuminate long-buried information to provide new and penetrating insights into the campaign at Anzac. The Artillery at Anzac reveals a largely unknown aspect of the campaign, deepening our understanding of it, and providing a new perspective that is of value not only to Gunners past and present, but to historians, and the wider public. Although occurring over a century ago the experience at Anzac offers lessons to today's Gunners. ...Show more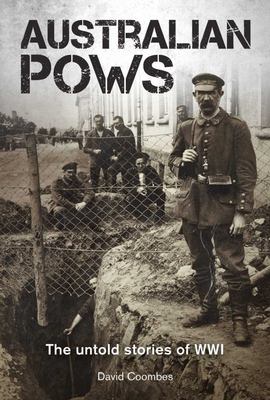 $29.99
AUD
Category: World War 1
"Comrades in distress we were, and it was now that one felt the existence of a brotherhood that establishes itself in circumstances of this kind ... A few of the men are very dejected, and appear to be losing all interest in themselves, their habits and practices not being approved by the majority. In s ome cases, for the most miserable reward, they cringe to the Germans for the chance of being of some service; others also, despite the fact their bodies can ill-afford the sacrifice, trade their boots and other clothing in exchange for food and smokes ... This is regrettable, but censure has no effect on the few. Most of us have resolved to maintain some sort of dignity, though 'tis difficult." So wrote Australian prisoner of war (POW) Corporal Lancelot Davies who was captured at the First Battle of Bullecourt on 11 April 1917 where Allied forces were 'badly smashed up'. Davies was one of almost 1,200 Australians captured that day, facing an uncertain future at the hands of their German captors. - he described the future as 'blank' and unpredictable. The experiences of Australian prisoners of war (POWs) or Kriegsgefangeners held captive in Germany has been largely forgotten or ignored - overshadowed by the horrid stories of Australians imprisoned by the Japanese during World War Two. Yet, as David Coombes makes known, the stories are interesting and significant - not only providing an account of what those young Australian soldiers experienced, and the spirit they showed in responding to captivity - but also for the insight it provides into Germany in the last eighteen months of the war. Coombes draws upon previous inaccessible records - including the interviews conducted many years before by Chalk - as well as private papers and unpublished manuscripts. He paints a vivid picture of young soldiers who survived the trauma of battle, only to find themselves facing an unknown fate at the hands of an often vindictive and cruel enemy. These 'comrades in distress', many wounded and traumatised by trench warfare, quickly discovered the bond of brotherhood, often the key to survival in a harsh environment with little food, poor medical treatment, back-breaking work and the anguish of confinement. What emerges in the pages of this amazingly detailed account is the typical Australian sense of humour and the sheer will to live that marked these men. Above all, it was their determination to be free and to return once more to their families that ensured their survival; often against overwhelming odds. Australian POWs is a fitting tribute to the World War One soldiers and POWs. David Coombes highlights the ordeals these men went through, their stoicism in enduring their mistreatment, and the fearlessness of a few in launching ingenious attempts to escape. He proves beyond doubt that their stories are by no means less compelling than those of their World War II brothers. ...Show more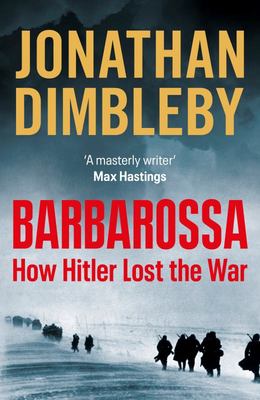 $35.00
AUD
Category: World War 2
Barbarossa, Hitler's invasion of Russia in June 1941, was the largest military operation in history, its aim nothing less than 'a war of extermination' to annihilate Soviet communism, liquidate the Jews and create lebensraum for the so-called German master race. But it led to the destruction of the Thir d Reich, and was entirely cataclysmic; in six months of warfare no less than six million were killed, wounded or registered as missing in action, and soldiers on both sides committed heinous crimes behind the lines on a scale without parallel in the history of warfare. In Barbarossa, drawing on hitherto unseen archival material - including previously untranslated Russian sources - in his usual gripping style, Jonathan Dimbleby recounts not only the story of the military campaign, but the politics and diplomacy behind this epic clash of global titans. With authority and panache, he charts the crucial decisions made in the world's capitals and the bitter struggles on the front lines, giving vivid insights into the experiences of all players, from the leaders on all sides to the men and women on the ground. Above all, Dimbleby reveals the significance of 1941 - the year in which the Soviet Union destroyed Hitler's chance of realising his demented vision - as the most important struggle in the annals of the twentieth century. The definitive book on Barbarossa, this is a masterwork for the ages. ...Show more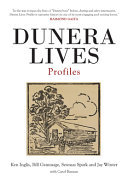 Dunera Lives: Profiles
by Ken Inglis; Bill Gammage; Seumas Spark; Jay Winter; Carol Bunyan
$39.95
AUD
Category: World War 2 | Series: Australian History Ser.
This second volume of Dunera Lives presents the voices, faces, and lives of 20 people, who, together with nearly 3000 other internees from Britain and Singapore, landed in Australia in 1940. All over the world there were Dunera Lives, those of men and women who passed through the upheavals of the Second World War and survived to tell the tale. Here are some of their stories. ...Show more
$35.00
AUD
Category: World War 2
The true story of a detective, two bronze horses and the dictator who set the world on fire. When detective Arthur Brand is summoned to a meeting with one of the most dangerous men in the art world, he learns that a clue has emerged that could solve one of the Second World War's unexplained mysteries- w hat really happened to the Striding Horses, Hitler's favourite statue, which disappeared during the bombing of Berlin. As Brand goes undercover to find the horses, he discovers a terrifying world ruled by neo-Nazis and former KGB agents, where Third Reich memorabilia sells for millions of dollars. The stakes get ever higher as Brand carefully lays his trap to catch the criminal masterminds trying to sell the statue on the black market. But who are they? And will he manage to bring them to justice before they discover his real identity? With a plot worthy of John Le Carre, Hitler's Horses is a thrilling retelling of one of history's most extraordinary heists. ...Show more
$34.99
AUD
Category: World War 1
The amazing life story of the general who shaped Australia; the first major biography of Monash in over a decade. John Monash's life is emblematic of Australia's much - heralded egalitarian spirit - here is the ultimate outsider: poor, Jewish in an era which still practised anti - Semitism, bookish at a time when intellectual pursuits were frowned upon - who rose to become one of the nation's most enduring folk heroes. Despite a scandalous private life and the experience of virulent racism, he established himself as a major force, not just on the bloody fields of wartime Europe but also in post - war society, where he oversaw vital developments in making Australia into a modern nation. When he died, an astonishing 300,000 Australians attended John Monash's funeral in Melbourne. But who was this unconventional man, what drove him and how did he manage to break down so many walls to rise to such a prominent position? Beyond an account of a much - admired general, this will be the story of an extraordinary and highly unconventional life and its legacy. ...Show more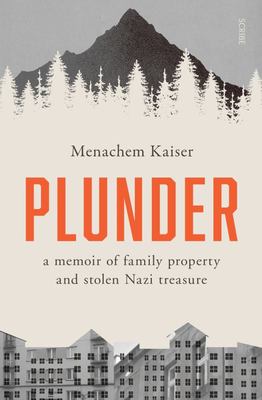 $32.99
AUD
Category: World War 2
Menachem Kaiser's brilliantly told story, woven from improbable events and profound revelations, is set in motion when the author takes up his Holocaust-survivor grandfather's former battle to reclaim the family's apartment building in Sosnowiec, Poland. Soon, he is on a circuitous path to encounters w ith the long-time residents of the building, and with a Polish lawyer known as 'The Killer'. A surprise discovery -- that his grandfather's cousin not only survived the war, but wrote a secret memoir while a slave labourer in a vast, secret Nazi tunnel complex -- leads to Kaiser being adopted as a virtual celebrity by a band of Silesian treasure seekers who revere the memoir as the indispensable guidebook to Nazi plunder. Propelled by rich, original research, Kaiser immerses readers in profound questions that reach far beyond his personal quest. What does it mean to seize your own legacy? Can reclaimed property repair rifts among the living? Plunderis both a deeply immersive adventure story and an irreverent, daring interrogation of inheritance -- material, spiritual, familial, and emotional.   ...Show more
$34.99
AUD
Category: World War 2
Soon after the declaration of war on Japan, a secret military reconnaissance unit was established, based on the British Special Operations Executive (known as SOE) and called the Inter-allied Services Department. The unit was tasked with the role to "obtain and report information of the enemy ... weaken the enemy by sabotage and destruction of morale and to lend aid and assistance to local efforts to the same end in enemy occupied territories." In 1943 it became known under the cover name Special Reconnaissance Department (SRD) and included some British officers who had escaped from Singapore. After arriving in Australia, they assembled in Melbourne, forming the nucleus of ISD and together with some Australians established what became the Z Special Unit. Training began in a number of locations around Australia including on Fraser Island off the Queensland coast, In Broken Bay near Sydney, at Careening Bay in Western Australia, at the "House on the Hill" in Cairns and at East Arm near Darwin. From these training areas and bases, Z Special undertook intelligence gathering and raiding missions throughout Southeast Asia including New Guinea, Singapore, Timor, Malaya, Borneo, Vietnam and the Dutch East Indies. The first operation was Jaywick in September 1943. Led by a 28 year old officer from the Gordon Highlanders, Captain Ivan Lyon. Using an old Japanese fishing boat renamed Krait this captured vessel was re-fitted and provisioned for a voyage from Australia to just south of Singapore where it released six commandos in three folding kayaks to attack Japanese shipping in the harbour. They placed limpet mines on several Japanese ships sinking 40,000 tons of shipping. After the successful attack, they paddled south, were picked up by the Krait and successfully returned to Australia. This was followed by Operation Rimau again led by Lyon but this time things went very wrong very early. Identified, they made a fighting withdrawal but all of the raiding party were shot or captured, with the last ten being executed just before the end of the war. Important in Z Special operations were a number of vessels designated "snake boats". Four 66'' modified trawlers were constructed as well as a range of Asian vessels that allowed their operation in South East Asian areas of operation. One Z Special, the last in PNG, set out on the night of the 11 April 1945. Eight operatives were landed on the Japanese held island of Muschu about five kilometres off the coast near Wewak to determine the status of two 140mm Japanese naval guns that had been placed there. These guns would prove dangerous to planned naval landings at Wewak, and allied command needed to know if these were operational. The operatives were launched in four double folding kayaks from a HTML fast crash boat but the current carried them away from their landing position and the surf capsized their boats. The men swam ashore but both their radio and their signal torches had been destroyed and the men had no way of connecting with the return crash boat. Soon their lost equipment was found by the Japanese and a massive search with 1,000 troops scoured the island. Quite soon seven of the eight men had been captured, killed or died trying to swim to the mainland and only one man, Sergeant ''Mick'' Dennis remained. Over the next three days he continued a one man war, fighting off Japanese patrols and living off the land. Unable to do this for long, he took to the dangerous shark and crocodile infested waters and with the aid of a log, paddled to the mainland. Landing on a Japanese controlled beach, he snuck ashore and after further firefights and a difficult journey travelling west, he finally was found by an Australian patrol. Mick Dennis was able to provide valuable information and for his service and bravery, was awarded a Military Medal. During the course of the war, Z Special Unit carried out 81 covert operations in the Southwest Pacific theatre. While the unit was disbanded after the end of the war, many of its techniques would be modified and used by Australian Special Forces to this day.   ...Show more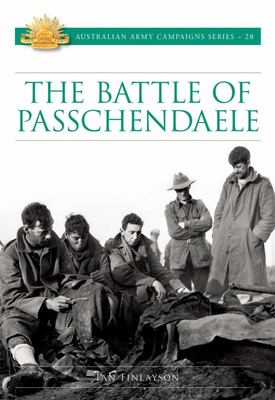 $19.99
AUD
Category: World War 1 | Series: Australian Army Campaigns Ser.
The Battle for Passchendaele on 12 October 1917 was one of the epic struggles of the First World War. British Field Marshal Douglas Haig allocated II ANZAC Corps to capture Passchendaele village, with Major General Monash's 3rd Australian Division and the New Zealand Division leading the attack. For bo th divisions the battle was a bloody debacle. Monash's division started the battle with 5800 men and, just 24 hours later, could only muster 2600, suffering horrendous losses for a small territorial gain which was later relinquished. The New Zealand Division was trapped in front of the German wire and barely moved from its start line, suffering one of its highest casualty rates of the war. Fought in conditions which seemed to preclude any chance of success, the battle has become a metaphor for pointless sacrifice. After the battle the British and Australian leadership were unanimous in placing blame for the defeat on the all-pervasive mud. Monash, writing to his wife, believed that his plan 'would have succeeded in normal conditions'. Yet, two weeks later, in similar weather and terrain, Lieutenant General Currie's Canadian Corps succeeded where Monash and Godley's II ANZAC Corps did not. The central focus of this book is a detailed analysis of the 3rd Australian Division's plan and execution of the attack on Passchendaele. By examining the differences between the Australian and Canadian plans for the capture of Passchendaele, the author casts this iconic battle in a completely different light. It is a re-examination that is long overdue. ...Show more
$34.95
AUD
Category: World War 2 | Series: Australian History Ser.
The Ypres salient 'was the favourite battle ground of the devil and his minions' wrote one returned serviceman after the First World War. Few who fought in the infamous third battle of Ypres – now known as Passchendaele – in 1917 would have disagreed. All five of the Australian Imperial Force's (AIF) in fantry divisions were engaged in this bloody campaign. Despite early successes, their attacks floundered in front of the devastated Belgian Passchendaele's when autumn rains drenched the battlefield, turning it into an immense quagmire. By the time the AIF withdrew, it had suffered more casualties over 38,000 casualties, including 10,000 dead, far outweighing Australian losses in any other Great War campaign.Given the extent of their sacrifices, the Australians' exploits in Belgium ought to be well known in a nation that has fervently commemorated its involvement in the First World War. Yet, Passchendaele occupies an ambiguous place in Australian collective memory. Tracing the commemorative work of official and non-official agents—including that of C.E.W. Bean; the Australian War Memorial; returned soldiers; battlefield pilgrims; and, more recently, the Department of Veterans' Affairs, working in collaboration with Belgian locals— The Battlefield of Imperishable Memory explores why these battles became, and still remain, peripheral to the dominant First World War narrative in Australia: the Anzac legend. ...Show more

$29.99
AUD
Category: World War 1
The ANZAC tradition was forged on the killing fields of Gallipoli in 1915 and the legend grewthroughout the decades at places such as Tobruk, Singapore, Kokoda and Long Tan. A CENTURY OFANZACS is a pictorial history of Australia's involvement in more than a hundred years of war, conflictand peacekeeping , starting with colonial wars in New Zealand and South Africa in the 1800's, right up toour modern peacekeeping roles in Timor, Iraq and Afghanistan.With introductions that provide an overview of each conflict in which Australia and New Zealand haveserved, A CENTURY OF ANZACS includes hundreds of rare and evocative images of courage, sacrificeand duty. The book is a tribute to the men and women who served their country in the past, and thepresent day soldiers and personnel who continue the ANZAC tradition on the international stage. ...Show more